#Knowledge
How hubless cities can attract higher spending fly-in visitors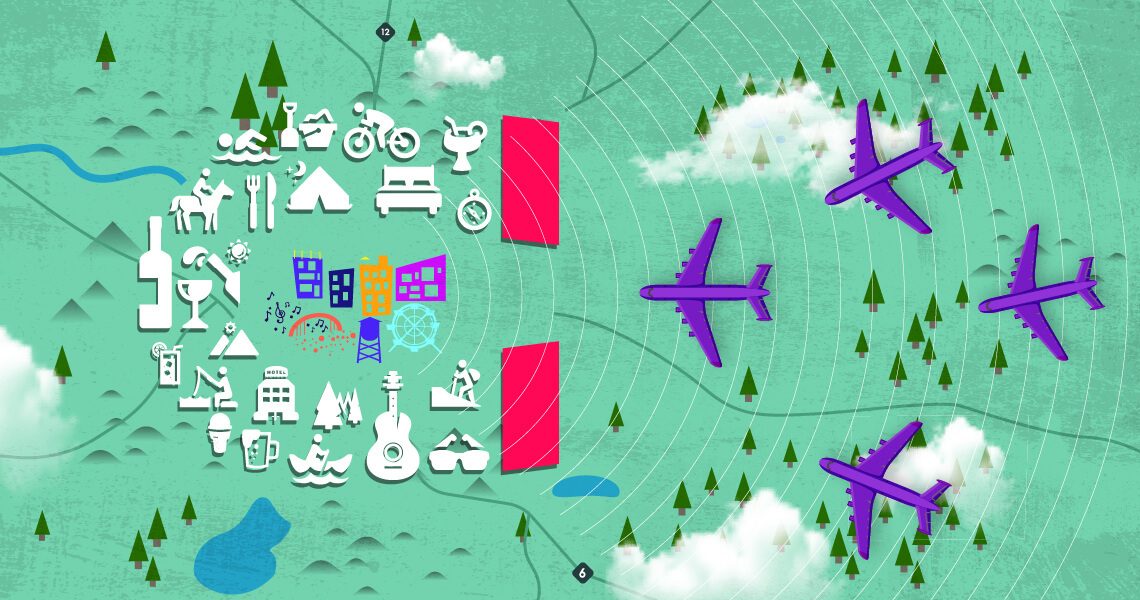 Written by Chris Denny - President/Founder of The Engine is Red
Illustration by Patrick Finney
Tourism bureaus, chambers of commerce, joint power authorities and other groups promoting tourism in cities with regional airports have unique challenges in attracting tourists, compared to larger hubs. The math is simple, with less tax revenue to power their outward communication, regional markets need to act much more nimbly when advertising.
The question is, of the thousands of options available to travel and tourism marketers, what methods are the most effective?
Having worked with a number of businesses facing this challenge, my view is to focus and spend narrowly and take advantage of hyper-targeting tools the digital marketing world offers in order to compete with larger travel destinations.
It's amazing how effective you can be, and how far you can make limited marketing dollars go, while attracting higher spending and more desirable visitors to your city. The combination is this: a focus on mid-sized markets that offer direct flights, and hyper-targeted digital marketing within them.
Here's a few other guiding thoughts to help you on your way.
Aim smaller
When you're making a national pitch for tourists, competition is stiff. You likely have less funds than you need to come close to reaching the desired traveler.
But when you're not going for national broadcast, you can better saturate the audience and offer a more custom message. Take Asheville, N.C. for example. With a regional airport, promoters might focus on making inroads to desired audiences in Tampa, St. Pete and Punta Gorda, FL, punching up the offer of a direct inbound flight by tapping into the desire for a quick weekend getaway with limited hassle and travel time.
Consider drive-in vs. fly-in advantages
When drive-in visitors come to Gatlinburg,Tenn. they're likely seeking out the most visited national park in the country, the Great Smoky Mountains.
Driving-in means they obviously do not need a rental car, so that's a loss of revenue for several stakeholders. Visitors tend to go home same day, or spend only one night. They might bring snacks from home, visit drive-thru instead of full service restaurants, and stay at inexpensive hotels.
Fly-in visitors to the Gatlinburg/Sevier County airport, on the other hand, are already invested in making the trip memorable, may stay longer, do more shopping, eating out and other big ticket entertainment. Hence, your money is better spent going after fewer higher-spending visitors than many low-spenders.
With summer fuel prices set to spike, a focus on fly-in customers has the added benefit of avoiding the dips in tourism associated with fuel costs.
by hyper-targeting, you reduce the risk that a lower-budget traveler will see an ad that isn't speaking their language. It's not like planting a billboard where anybody will see it.
Take advantage of seasonality
The very successful Levi's Grand Fondo held annually in Sonoma, Calif. has maximized drive-in traffic for the October event. Organizers should consider refocusing marketing dollars onto cities with direct flights to Sonoma County, such as Minneapolis or Phoenix, which would provide an entry point for higher spending visitors.
If your market has a low-season (that isn't deluged with monsoons or some other unfavorable weather situation), your marketing dollars will go even further. Why? Because if travel is still enjoyable, fly-in travelers who want to get away for a quick trip without investing like it's a European vacation are more likely to book.
Build messaging for higher-dollar travelers
This can be tricky, especially for predominantly drive-in travel regions, you don't want to alienate your base. If lower-budget travelers suddenly see that their favorite getaway destination is appealing to people who aren't them, you risk losing some of that revenue.
Luckily, digital can be helpful here because by hyper-targeting, you reduce the risk that a lower-budget traveler will see an ad that isn't speaking their language. It's not like planting a billboard where anybody will see it.
Go digital
Once you've committed to narrowing the audience, developing your messaging and targeting it is much easier. Take advantage of the best targeting available; geography based ads in pre-roll, display and promoted social.
For instance, Levi's Gran Fondo can use Instagram, Youtube, and digital display networks to create a deep saturation affordably, by concentrating on affluent, cycling enthusiasts in Phoenix and Minneapolis. The hyper-focus allows them to expand their frequency and create a huge impression, on a modest budget.
Though it can be challenging to figure out what tools will best help your region bring in higher-dollar visitors, know that there is absolutely a media mix available to you. And we're not talking hundreds of thousands of dollars. For $7-10k per month in media spend, and with the right messaging mix, most any regional travel destination can attract the right travelers.
With that growth comes more businesses that will want to invest, which means more reasons to visit, and more tax dollars to feed the region's growth as a travel hub.